Jiejian manufactures and builds geodesic dome tents for outdoor exhibitions, promotions, events, weddings and parties. We also design custom geo dome construction for clients' special events. Geodesic dome structures are the excellent option to all the typical event solutions such as clear span tents. Its unique shape and the fascinating framework create an incredible sense of space.
Event dome tents are the most spacious, effective and lightest tents for event. JieJian, as an event dome tent manufacturer, can help you getting various events through including wedding parties, exhibitions, celebration, outdoor activities, and etc. Especially, planning product promotion in the event dome can create an vivid impression. We also design and manufacture custom festival dome tents to create the perfect solution to make your event special.
Diameter
Ceiling Height
Floor Area
Allowed Extra Load
People Suggested
5m
2.9m
19.6sqm
250kg
10~15
8m
4m
50.2sqm
385kg
30~40
12m
6m
113sqm
600kg
80~100
14m
6.27m
154sqm
800kg
100~130
25m
12.5m
490sqm
1500kg
400~450
30m
13m
706sqm
1500kg
600~750
40m
15m
1256sqm
2000kg
1200~1500
60m
25m
2826sqm
2500kg
2500~3000
Geodesic dome structure can be used as a single unit or combined by a tube to make a larger space or a special structure style. Customized sizes(from 5m to 80m), colors, and shapes are available.
Features
Easy Installation
JieJian provides a complete installation guide for you. We will send you the Install video and instructions, most of our customers can install by themselves.
Mobility
Our event dome shelter is movable, very easy to transport. As we all know, geodesic dome is the lightest structure among the outdoor mobile structures.
Accelerating Production
Our qualified team can produce and deliver your ideal dome to fit the time of your project. Because we have in-house manufacturing, even with custom orders, we have 100% performance.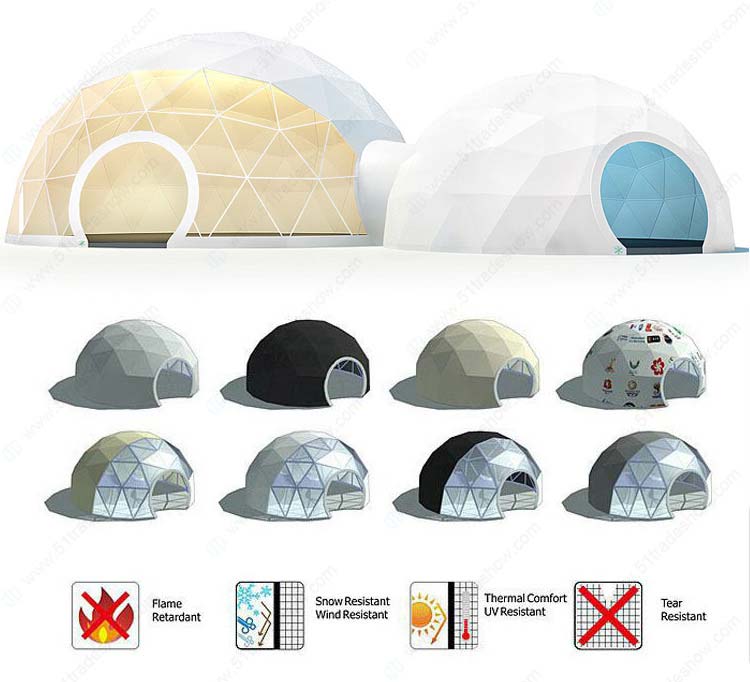 Clear Top Geodesic Dome Tents
Clear top geodesic dome tents from Jiejian require no poles, load baring walls, or columns inside, allowing for maximum usable area for events. Its steel structure makes it more sustainable to the weather factors and loads, and longer life time during multiple install and uninstall cycles.
With this Transparent geodesic dome tent, you can have a great time under the stars while being protected from the weather. Inviting your guests into these remarkable space domes will turn your event into a truly memorable experience for everyone.
White Geodesic Dome Tents
White geodesic dome tent is an effective marketing strategy for you and will ensure a outstanding site. Geodesic dome tents can support lighting and sound equipment to meet your special needs. Providing internal structural analysis, our architect and engineer can solve almost any of your requirements. Clear geo dome tents can be specially designed inside and our 3D artists can figure out installation environment according to your visual graphics.
flame retardant
snow resistant and wind resistant
thermal comfort and UV resistant
tear resistant
special design and high end looking
Custom Geodesic Dome Tents
With Over 20 years experiences, our team can build kind of custom geodesic dome tents. Jiejian Event Domes provide customized digital printing, including both interior and exterior decoration. We can ensure your customized project getting detailed attention through, seeing your custom domes from concept to completion. Jiejian Exhibition will show you the most creative geodesic domes for events.
We also provide whole project solutions. Our construction team can customize dome to meet your specific requirements. Our experienced sales can deal with tent installation and disassembly, tent air conditioners and heaters, shipping and so on.
If you want to Get A Free Quote for these geodesic dome tents, chat with us now or type detailed product inquiry below. We will get back to you as soon as possible.