Usually, you will need a temporary fix in a high temperature space. Jiejian offers temporary air conditioning units, which are perfect for event cooling in all kinds of industries and events. Temporary air conditioning units are very easy to install and much more energy-efficient than permanent air conditioners. Thus, they are the perfect solution to short-term climate control problems. Especially, they are great for keeping people comfortable in outdoor large tents. Even if you put important equipment inside the space, our portable air conditioning units can provide a safe environment. Our temp air conditioners sale are made for both commercial and industrial use.
Our portable temporary air conditioning units take no more than 5 minutes to install. We stock a variety of cooling capacities from 2 ton to 30 ton, ready to be installed at your space. At Jiejian, we can solve your needs of temporary cooler, heater, dehumidifier.
Temporary Air Conditioning Units Specification
| | |
| --- | --- |
| Cooling Capacity: 86kW / 288000Btu / 24ton | Cooling Input Power: 35kW |
| Heating Capacity: 86.4kW | Heating Input Power: 29kW |
| Cooling Air Flow: 16000m³/h | Wind Pressure: 400Pa |
| Running Current: 60A | EER: 8.4 |
| Power Supply: 380V/3N/50Hz | Application Area: 300 sqm per unit |
| Dimension (length*width*height): 2700*1100*3700 mm | Weight: 1000kg |
For a full list of cooling capacities, visit our portable ac units specification page. Besides, you can SEND your detailed product inquiry below to get more details and a free quote. We make it our business to create a comfortable environment in your sites .
Product Skim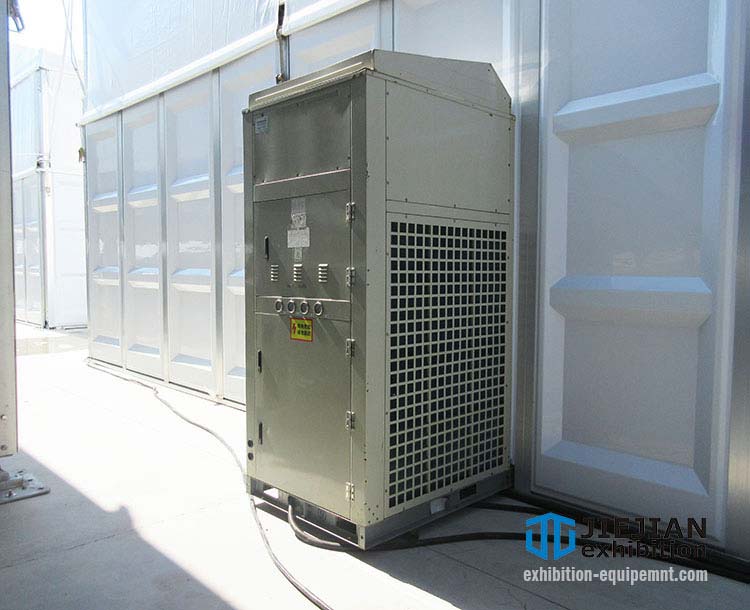 Author Rating





Brand Name
AC Unit Type
Per Unit Price
Availability