Wedding tent air conditioning is a good choice when you are looking for a location-friendly portable ac unit. It is so easy to set up and operate that two people can
easily assemble this unit into a wedding tent
. You can position these tent air conditioning anywhere and still get effective heating and cooling. So this is the ideal spot cooling solution for wedding in a temporary structures. We offer types of wedding tent air conditioning units to provide cool air or heat for outdoor events, from a 50 people party to a large 1000 people ceremony.
For those planning weddings, tent air conditioning units are favorable. Even if you're hosting a wedding in mild seasons, these tent ac units are also needed to keep your guests comfortable and happy. No one wants to be sweating in a wedding.
More features as below:
These durable temporary ac units are specially designed to meet demands of being portable.
Workers can locate it right up against temp structures such as clear span event tents and geodesic structures.
This adaptable tent ac unit fits through most walling system including ABS wall, PVC fabric wall and hard wall.
You can place it indoor, outdoor or even half way between the conditioned tent buildings.
Wedding Tent Air Conditioning Specification
| | |
| --- | --- |
| Cooling Capacity: 29kW / 96000Btu / 8ton | Heating Capacity: 38kW / 132000Btu / 11ton |
| Cooling Air Flow: 5000 m³/h | Input Power: 12kW |
| Input Power: 12 kW | EER: 8.23 |
| Noise Level: 60 dB(A) | Power Supply: 380V/3N/50Hz |
| Dehumidification: 180L/24h (20℃, 75% humidity) | Application Area: 100 sqm per unit |
| Dimension (length*width*height): 1750*900*2550 mm | Weight: 490 kg |
In addition to weddings, we also offer tent air conditioning for concerts, corporate events, sporting events, and much more. If you want to know more about tent air conditioning units, just SEND your detailed product inquiry below. We will get back to you as soon as possible.
Product Skim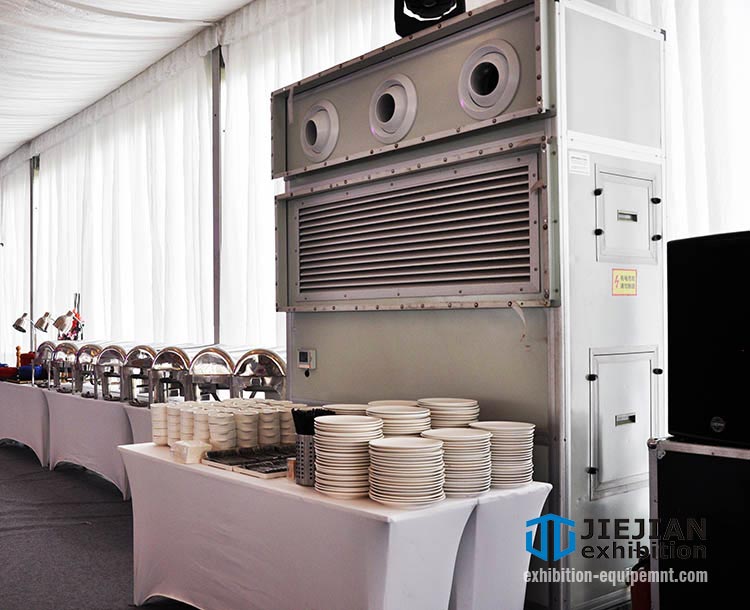 Author Rating





Brand Name
AC Unit Type
Per Unit Price
Availability