You may think we want to convince you to use outdoor event tent air conditioning all year round. No, we don't recommend using air conditioners in cold winter, though you may need portable heaters. However, what we want to say is that you should also use tent air conditioning in spring and fall–the shoulder-season months. You can consult a portable air conditioning supplier to choose the most suitable tent air conditioning system for your event.
There are many options for controlling climate and creating comfort in the event tent. We offer many portable air conditioners with different sizes or systems that match your tent size or event scale. Multiple units can be placed at different spots along the tent to keep your event uniformly cool and conditioned.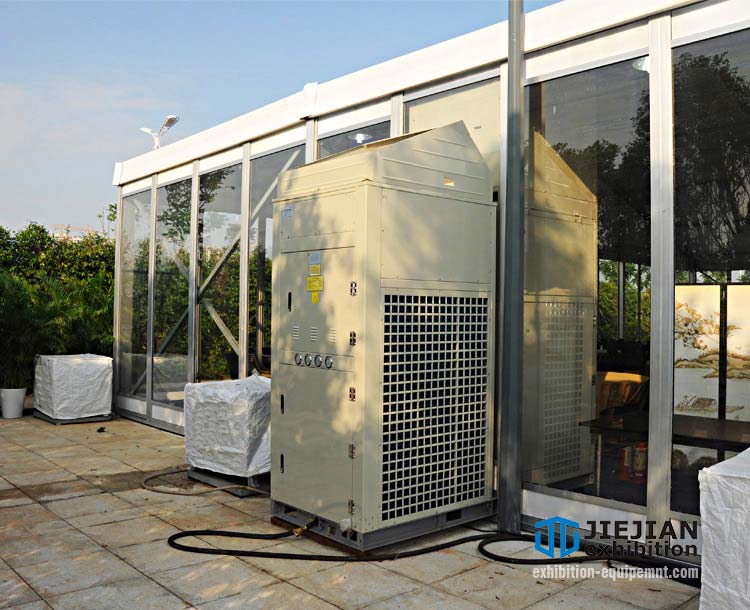 Event tent air conditioning not just for hot summer days? Why?
Unseasonable weather. The weather in the middle of April or May is changeable, sometimes up to 90+ degree, it's a good idea preparing outdoor event tent air conditioning for the high traffic event season.
Food conservation. Spoilage and possibly ill guests can ruin your event. Elaborate food displays in many special events should be appealing and well conserved. Therefore, you had better using air conditioning to make sure your refrigerated foods served at the proper temperature.
Greenhouse effect. Body generates heat. A tent piling up hundreds of bodies can heat up pretty quickly even in spring. The humidity and moisture may make guests uncomfortable, though in a luxury event tent .
Flowers and other living decorations. Temperatures between 65 and 72 degrees create a suitable living environment for flowers. Don't let the party decoration over till the party ends, just use portable event tent ac units to control the temperature.
For your next event in a tent, just consider all potential variables and consult. A professional air conditioning supplier like us will provide you the most suitable solution according to your event, and make your event comfortable and memorable.