Need tent aircon for an outdoor sporting event? Are you looking for portable event cooling system for a high-end tented wedding or backyard party? Here at Jiejian, we have plenty of options for your event cooling to comfort your guests. Our portable event cooling systems are specially designed for marquee tents. Therefore, you don't have to worry about what the inside of the tents looks like. These event tent cooling will definitely look great, perfectly match with the tent wall.
"With your portable air conditioner, our event was a huge success!"
It will have much fun to plan a wedding or corporate in a tent, and much more fun in an air conditioned tent. Portable event tent cooling is able to keep guests comfortable inside even it's over 100 degrees outside. Lucky that your guests don't have to wipe the sweat away when they are having the yummy meal.
"You did a wonderful job, making my tent very comfortable!"
Provided with pride by Jiejian Event Tent Cooling, these portable event air conditioning units can comfort everyone involved. When it is a clear roof tent, it may be much hotter under the sun. When it is a 10,000 square feet tent, it may be hard to cool every corner. However, we can handle it all for you.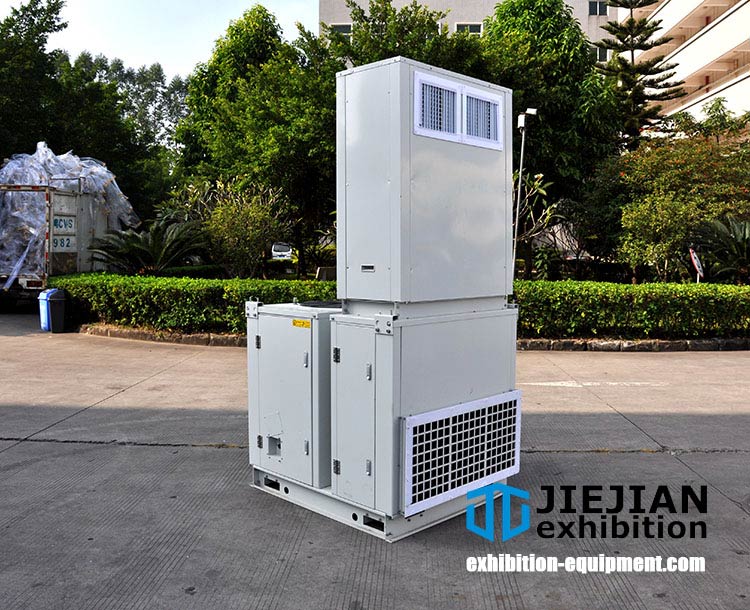 Portable Event Cooling Specification
| | |
| --- | --- |
| Cooling Capacity: 13kW / 48000Btu / 4Ton | Power Input: 5kW |
| Cooling Air Flow: 2800m³/h | Condensing Motor Power: 0.25kW |
| Exhaust ESP: 150Pa | Power Supply: 380V/3N/50Hz |
| Compressor Input: 5HP | Weight: 320 kg |
| Noise Level: 67 dB(A) | Dimension (L*W*H): 2200*1050*1200 mm |
For a full list of cooling capacities, visit our tent aircon and event cooling sale specification page. Or SEND your detailed product inquiry to get more details and a free quote. We're happy to cooperate with you and help to boost your business.