Outdoor tent event planning is always troublesome, because there are many details to consider. What's the right size tent for events or exhibitions? How many air conditioners would be appropriate for the tent? How many toilets do I need for my event? Here at Jiejian, we can handle it all for you.
Event Tent Size Guide
If you are not sure the size of the tent you need for your outdoor event, this approximate tent size guide will give you an idea. There are lots of things you need to consider to choose right tent size making guests comfortable. For example, how many people you are going to invite and what kind of event you want, all seated at tables? buffet setting? cocktail party setting?


If these recommended sizes can not apply for your event site, you can contact us to get an ideal one. Moreover, we can create 3D layout for your event to let you know the setting.
Cooling Capacity for Tents
Now that you have an idea about the tent size, the next thing you need to consider may be air conditioning for tent.
First, you should know that one ton of cooling is for every 12 sqm to 16 sqm tent. For example, for a 20×30 tent (600 sqm) you will need between 38 and 50 tons.
Second, the amount of cooling you choose will depend on all heat generating elements. So you must take time of day for event, number of people, surrounding area, lights, and cooking equipment into consideration.
Event Portable Toilet Calculator
We supply a variety of different portable toilets. This calculator is a simple guide illustrating required numbers of portable toilets for your tent event planning.
However, when calculating how many event porta potties may be needed, it is important to take drinking into consideration. Because consuming alcohol will increase usage and number of toilets required. Another important factor is that whether there are sufficient waste tanks on site when event running over more than one day.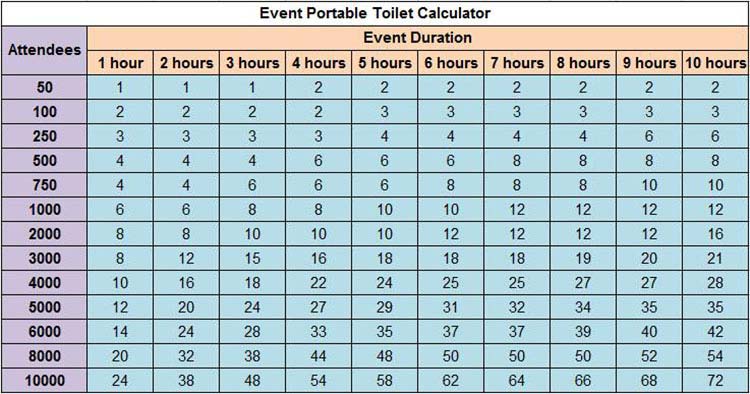 For example, if you are planning a seated tent wedding for 200 people, you can choose a 10x30m tent or a 15x20m tent. To make a comfortable circumstance, you should equip the wedding tent with 6 units of 3 ton air conditioners. Also, 4 sets of portable toilets are required when your wedding will be lasting 8 hours.
Anyway, this is just approximate calculations based on our experiences. We can make a bespoke tent event planning according to your special needs. Just write down your message and contact info below, we will get back to you within 24 hours.